Happy New Year! And welcome to my website. I've been posting sketches, drawings, illustrations, cartoons and various rants and rambles over at skook.blogspot.com since 2003. I've owned davidingersoll.com and davidleeingersoll.com since 2007 but until recently those addresses were pointed at a blogspot site that I really wasn't giving much attention. I've got an epilogue.net gallery, a kaijuphile.com gallery, a deviantart.com account, a myspace account, a facebook account and I've posted art here and there around the net. I'm a regular scattered 21st century netizen.
I'd also like to be more organized and easier to find. So, while I'm sure I'll continue to update at my various other web addresses,  I'm going to be focusing most of my attention here at Skookworks. There's a lot to be done to get this site into the sort of comprehensive shape I'd like so if you run across a page that seems unfinished it probably is. I've got three galleries posted (see the Galleries page for direct links) and have more in the works.
For my first set of posts I'll be doing a process series; showing and discussing the stages of an illustration from sketch to finished art.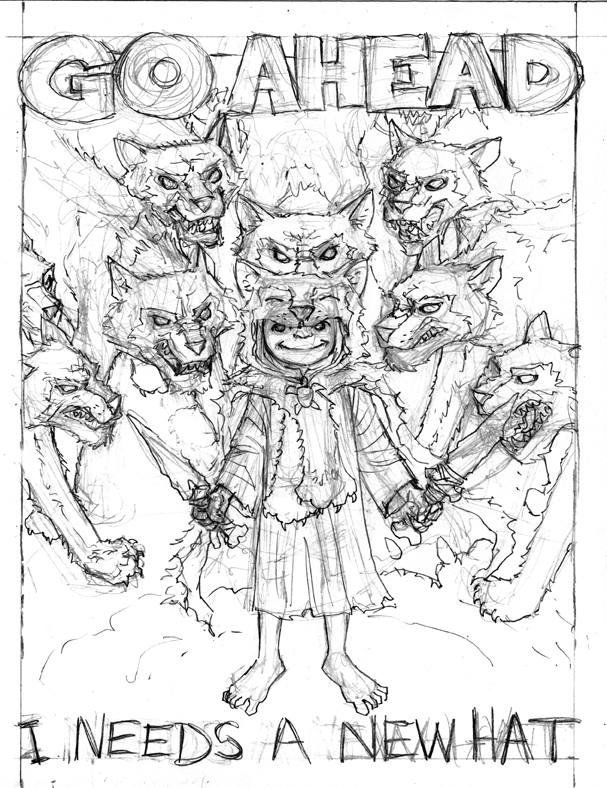 My first step in any illustration is usually a noodly little thumbnail sketch to figure out the basic composition of the illustration. Usually that little sketch is a barely legible thing and I almost never scan it or post it. I generally don't think about scanning anything until I've done the pencil sketch that I'll actually use for the final illustration. One of these days I'll try to remember to document the early stage sketches.
The character in the sketch above is currently named Little Red. Her name may change if something more unique comes to mind. You can see a finished illustration of her in a couple of the header banners for this site. (They're set to post randomly so she may not be featured in the one that's currently showing. Click the refresh button if you'd like to see the other banners. There are currently four available.) She's a character I first created in an illustration I did for Nizzibet's birthday. We both liked her so much that I've adopted her as one of the mascots for this site and have a number of projects planned around her. I've done a few other small pieces with her but this is the first large one and the first in which she interacts with other characters.
Tomorrow: Inking.