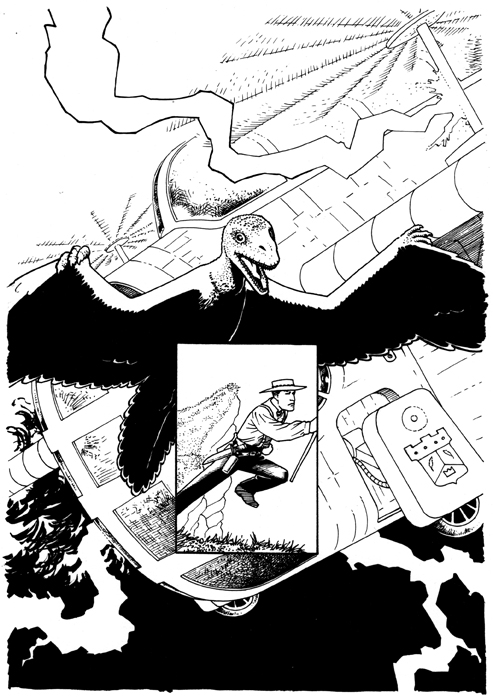 The first project Nizzibet and I worked on together was Finnegan's Brink. The tagline for the project was "A Jules Verne Western". While that probably evokes the right images in the heads of potential readers it's not really accurate. At least, it's not accurate in my experience. I saw some pretty exciting movies as a kid that claimed to be adaptations of Verne's novels. When I read the novels I discovered that the adaptations were not particularly faithful ones. Mysterious Island, in particular, was a great disappointment. The 1961 movie version, the one I saw as a kid, had monsters. The original novel had … a crazy castaway and an orangutan.
Jules Verne's novels are, for the most part, short on monsters. He does have a couple of prehistoric sea reptiles fight to the death in Journey to the Center of the Earth. As I've read more about him, I've found out that he added the scene with the mushroom forest and the giant cave man to a later edition of the book. The first edition only had the sea creatures. The discovery of dinosaurs and other prehistoric life was a new one when he wrote Journey. Verne was a working writer and he tried to make his books exciting and current for his readers. It's possible that he would have put more monsters in his books if he thought they would sell.
But that's kind of beside the point. "Jules Verne Western" sounds cool. It flows better than, say, "An Arthur Conan Doyle Western". Finnegan's Brink is story of a community of castaways who have created a peaceful civilization on a Lost World of remnant dinosaurs. The humans are doing fine. They farm. They maintain their traditions. They rescue the survivors of any ships that blunder into their waters and help those survivors assimilate. Leaving isn't an option.
Until an airship crashes. Things get complicated from there.