Earlier this year, I started seeing these cover images online. They started popping up on some of the blogs and tumblr accounts I follow. The paintings are beautiful. If there had only been one of them I probably would have noted the story that the painting illustrated and then quickly forgotten about it. Seeing three covers for Morgo the Mighty piqued my interest enough that I wanted to find out more about the story.
 I looked. There's a mention of it in an essay about Hollow Earth stories. It's discussed in a few paragraphs at the end of a long article about Tam, Son of the Tiger. Otherwise, there's really nothing useful. No fansite. No wikipedia article. No author's bio. No Gutenberg Project e-text.
There's not much online about the  author, "Sean O'Larkin." I'll return to him later.
The cover illustrations are by Howard V. Brown. Him you can find info about, and most of it includes examples of his lovely art.
Morgo the Mighty was serialized in four issues of The Popular Magazine. Interior illustrations were by Clarence Rowe.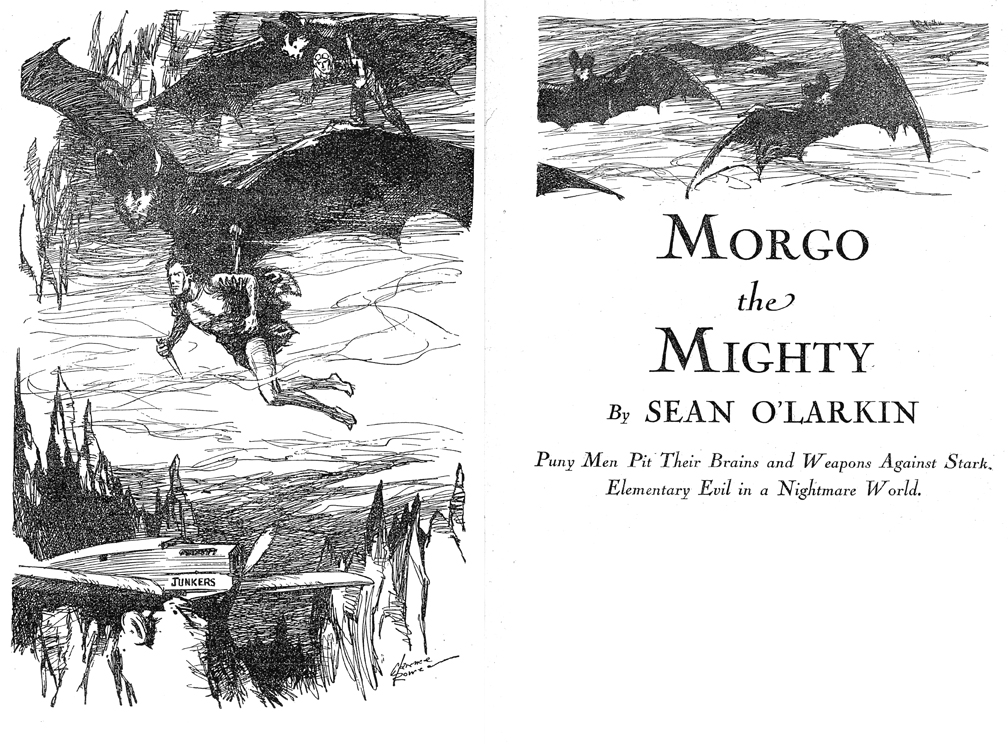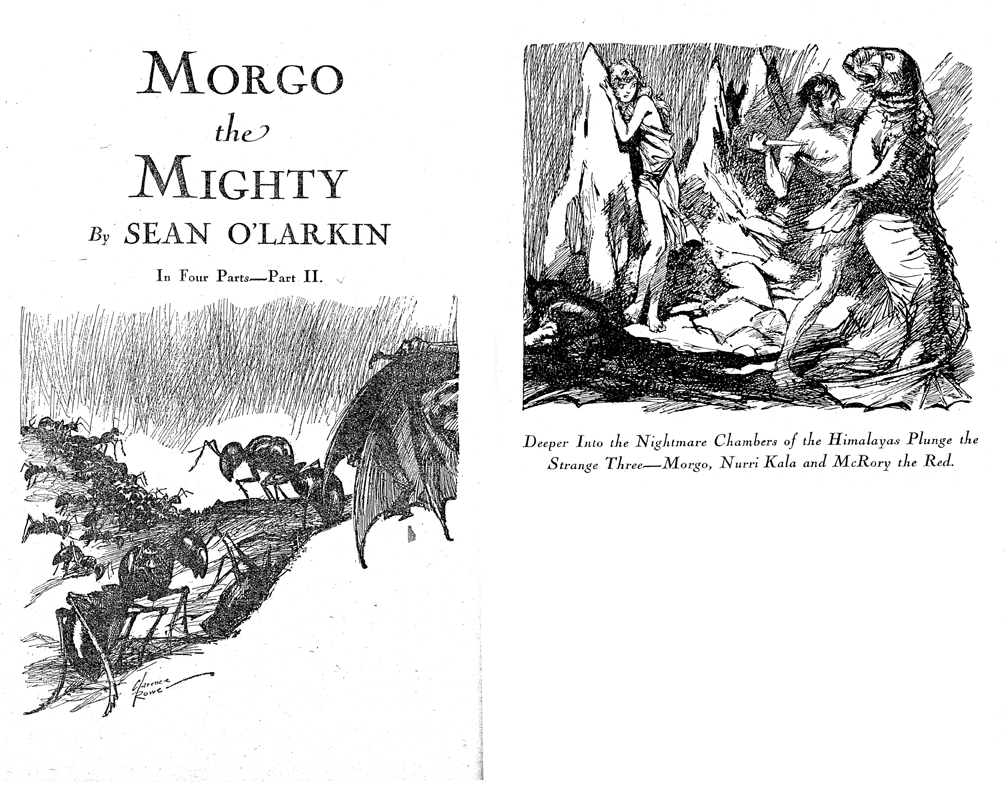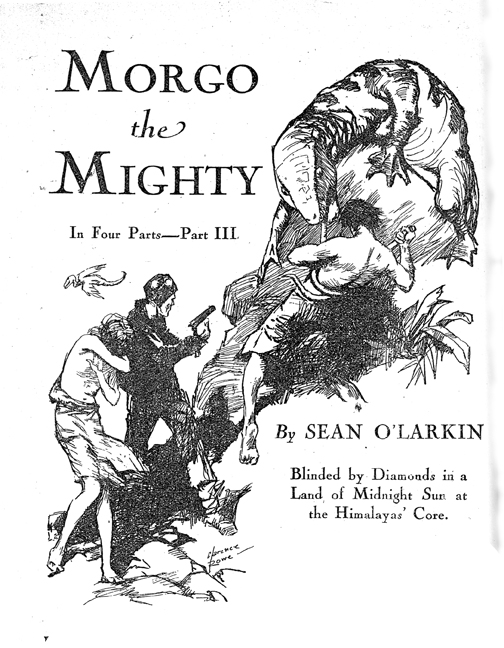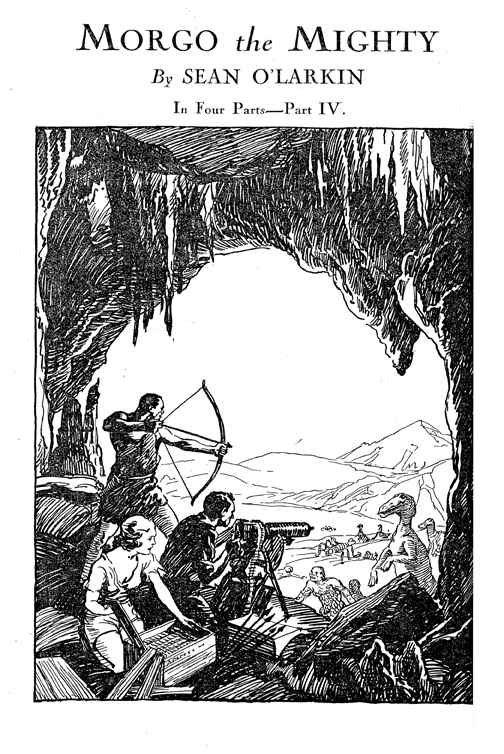 I may not have been able to find much about the novel online but I was able to find someone selling a facsimile collection of it on ebay. I did find out enough about Morgo to think it takes place in a lost subterranean land populated with prehistoric monsters, so I knew it was a representative of a genre I have affection for. So I bought it.
The seller seems to have scanned and cleaned up the original printed pages from The Popular. Instead of just reading it and keeping it to myself I retyped the story and posted it, serial style, on my blog. The entire novel is 26 chapters. There aren't, technically, any prehistoric monsters in the story. There plenty of other sorts of monsters so I didn't mind. We've already got Pellucidar; a little variety in underground realms is appreciated. I  posted the story over a three month period.
I don't know if this novel is in the public domain. Since it was published in 1930 it's possible that it's under copyright. The copyright lockdown that the Disney corporation engineered has prevented many works published after 1928 from entering the public domain. If J.F. Larkin is still alive somewhere or has heirs who have renewed the copyright, please let me know. I'd like to talk about what to do with this story.
Originally, I'd intended to donate the completed manuscript to the Gutenberg Project. Then, a gentlemen named Andy Beau helpfully compiled all the online chapters into a single file and sent me the file as both a Word doc and a PDF. I'm making those files available to you. Just click on the links below to download the version you prefer.
Morgo The Mighty – PDF
Morgo The Mighty – WORD
As I said, I tried finding information about this serial's author but came up light. The internet is filled with information but only the stuff that's important to people who are alive and online now. Any further research I do will probably have to be done the old fashioned way, at a library or a records office. "Sean O'Larkin" was a pseudonym for John F. Larkin Jr. He seems to have written fiction for the pulps and scripts for plays. I don't know when he was born or when (if) he died.
Sean O'Larkin Bibliography
* The Arson Mob, (na) The Popular Magazine Jun #2 1930
* The Devil's Widow, (sl) The Popular Magazine Aug #1, Aug #2, Sep
#1, Sep #2 1929
* Exit Laughing, (ss) Cosmopolitan Jan 1931
* Flaming Ice, (na) The Popular Magazine Dec #2 1930
* A Hollywood Murder Mystery, (ss) The Popular Magazine Mar 1931
* The Jade Blade, (na) The Popular Magazine Oct #2 1929
* Morgo the Mighty, (n.) The Popular Magazine Aug #2, Sep #1, Sep #2 1930
* Morgo the Mighty, (sl) The Popular Magazine Oct #1 1930
* On the Spot, (ss) The Popular Magazine Feb #2 1930
God Save the Queen!  a farce in 3 acts
Sean O'Larkin pseudonym of John F. Larkin Jr.
copyright Aug 21, 1930
Society Girl [SG].  Film.
Dirs. George King and Sidney Lanfield.  Adapt. Charles Beahan.
Dialogue Elmer Harris.  Featuring Spencer Tracy, Peggy Shannon and
James Dunn.
Production History:  Fox Film.  Released June 1932.
Source: Based on the play Society Girl by John F. Larkin, Jr., (aka
Sean O'Larkin) and Charles Beahan.