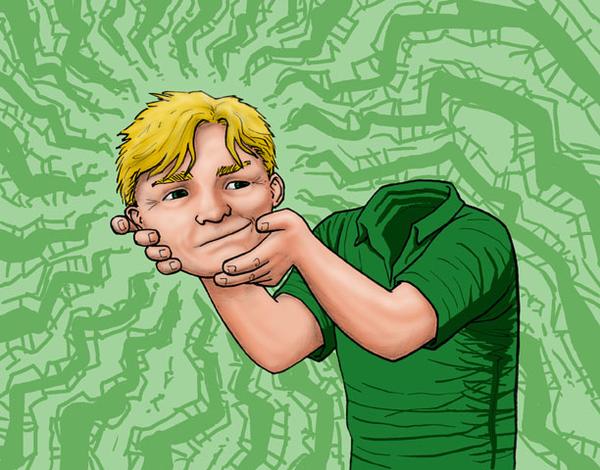 2013 is a year of professional anniversaries for me.
I published my first minicomic in 1988. That was 25 years, a quarter century, ago. That first minicomic was Cheap Thrills #1. Over the next 3 years I drew 18 other minicomics and contributed stories and illustrations to minicomics published by other people. This summer, Fantagraphics is publishing A Treasury of Mini Comics, Volume 1. It will include a reprint of one of those early minicomics.
I drew my first illustrations for The Black Seal, a Call of Cthulhu fanzine based in England, in 2003. That was a decade ago. That lead to illustration work for Worlds of Cthulhu, Chaosium, 3Hombres and other gaming companies. I should have at least 3 RPG books featuring my illustration published this year.
I wrote my first journal post at skook.blogspot.com in 2003. Ten years later, I still don't like to say "blog" (the word has no poetry to it) but I've been blogging ever since. The writing-about-my-life aspect of blogging has been on hold this year in order to publish Daughter of Spiders on a daily schedule.
I used to write letters. On paper. By hand. With a pen or a pencil. I'd put them into envelopes and mail them out. People in postal uniforms would deliver them to friends in far away places. Usually the people I sent them to would write back. As I got older I became more proficient at typing so I composed more with my computer and when I sent out letters they were usually typed and printed out. It was more efficient if a bit less personal. I'm sure those letters were easier to read that the ones written in my longhand.
With the introduction of email and internet, I wrote less physical letters and more digital ones. Add in Facebook and my letters got fewer. Many of my written communications now are just quips, "comments" on Friend's FB posts.
I'm not complaining. I'm just stating the obvious. (I've been told that I'm good at that.) I still enjoy mail from people I know. Mostly those are emails but I do still get occasional greeting cards and postcards. I treat those like gold. Better than gold actually since gold has no emotional resonance for me. I save all my cards and letters. It's the emotional packrat in me.
For the last few months I've been head down, drawing a graphic novel. It's been my day job since December. I expect to lay down the last pen strokes on the last page sometime in early May. At first, I was so busy drawing that I didn't have much brain space for doing more than post those FB quips. As I've gotten into the rhythm of producing artwork, the parts of my mind that weren't engaged in drawing started looking for other things to do.
So. This thing you're reading now? It's a letter to all y'all.It's the warning-shot-across-bow issue of my monthly newsletter. Future issues will include personal rambles, nonsense, links to cool stuff I find online, nonsense, links to neat things that people I know are doing and information about old projects, ongoing projects and projects-to-be. And, of course, nonsense. There aren't any links in this issue because most email services are set up to block spam and phishing attempts and other nefarious sorts of digital flimflam. There isn't any art either for much the same reason. I wanted you to have the chance to opt out of your subscription before your digital servants opted out for you. If you think you'd like to get a monthly newsletter from me, you don't need to do anything. It will arrive on its own. If you'd rather not get this, either send me a note that says "Unsubscribe me, gosh darn it!" or just click on the unsubscribe link in either the header or the footer.
The first official issue of the newsletter will come out on May 15th.
Until then, tie your boots tight and dance in the rain.
– David