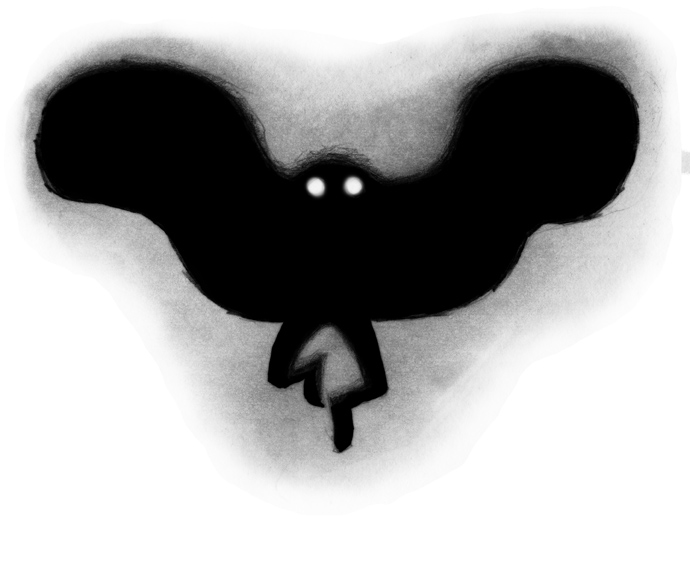 The above image, a version of the Mothman, is the first creature I drew for the year long Daughter of Spiders blog project. At the time, I wasn't calling the project Daughter of Spiders. I hadn't thought that far yet.
Since January first, Daughter of Spiders has been running on the front page of this website. Every day there's a new image of some person or creature or horrible thing. And there's a little bit of text underneath. Sometimes the text obviously belongs with the image, other times the two probably don't seem connected.
You may ask: What the heck is going on? What's the story? What's happening? What does it mean?
To which I'll cheerfully reply: What do you think it means? What would you like to have happen next?
Daughter of Spiders is a series of glimpses into the life of Briar Rose Taylor. Rose was born in New Orleans in 1800. Her father was a pirate. And a tailor. And the 4000 year old son of a Neanderthal spider god. Rose inherited a bit of her grandmother's magic and an extended life span. She's met a few interesting beings during the last couple of centuries. Each post should be considered a small excerpt from a bigger adventure.
As it was originally conceived, in 2009, DoS was a simpler and more straight forward project. I'd been posting scans of sketchbook pages and sketches of works in progress on a daily basis at skook.blogspot.com for a while. I decided I wanted to do something a little more ambitious but simple enough that I could be posting something new every day.
My first thought, as it often is, was to draw a series of monsters. I love drawing monsters and it seemed likely that I could sketch a monster a day without much trouble. I figured that, whatever I did, it couldn't be more complicated than a single figure sketch. I had a full time job and I was trying to draw illustrations for role playing games and draw a comic in my off hours. I thought I could do a single figure pencil drawing as a warm up before I did my other art works.
My initial ambition, in 2009, was to get a good backlog of drawings done and then, on January 1st, 2010 start posting them online. I didn't think I needed to have 365 illustrations ready to go, just enough to get a head start. I figured that I could add more as the year progressed and still stay ahead of the date. Unfortunately, as 2009 got closer to being over, I had finished illustrations less than I felt comfortable with. I hate starting a project and not being able to keep up with it so I decided that, maybe, having a full year's worth of drawings done was a good idea.
I pushed back my intended launch date to January 1, 2011. I kept drawing. When I draw an illustration, I often do it with the idea that image is a glimpse from a story. The drawings weren't intended to have a story that connected them but the more drawings I did the more ideas came to mind to connect them. Perhaps the reason there were so many versions of the Frankenstein monster was that there was secret society of mad scientists? What kinds of creatures would live in the Hollow Earth? Do I need an answer? Or would a framework be enough?
2011 loomed and, while I had at least three quarters of the illustrations finished, and I had figured out that Rose would be the character that would tie all the elements together, I still had planning to do. So I decided that I'd launch in 2012.
2011 started with me being laid off from my day job. I went back to school. I kept drawing. 2012 pounced and I pushed back the launch to 2013. I was determined that I wasn't going to put it off again. After four years of work I really didn't want to wait any longer. The illustrations are all done. The writing isn't but so far I've managed to stay ahead of schedule. On the times when I'm not ahead I make sure to write the next day's entry before I go to bed.
As I've been writing each day's post I think about the story that's on either side of that day's excerpt. I look at drawings I did in 2009 and 2010 and think how I might draw them now.
Daughter of Spiders is a work in progress. When the last entry posts on December 31st of this year I should already be at work on a second draft. Revised art. Extended story. The current version of the story surprises me every time I write an entry. I'm looking forward to seeing how the story grows.
As of today there are 227 entries posted. I've set up pages at my website to allow the entries to read chronologically. Below are links to what is available so far –
Have fun!