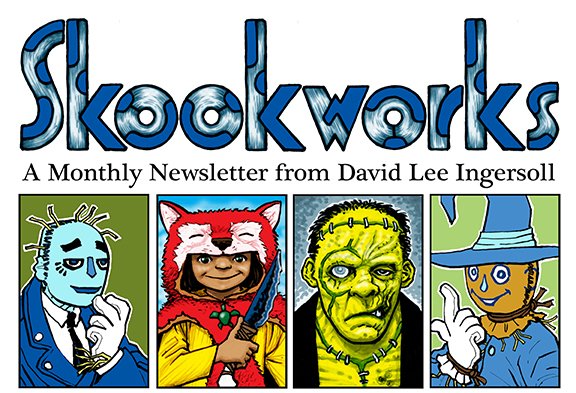 "Just do the same thing. Over and over. People will get used to seeing it. After ten years, they'll recognize what you do and then you'll have a career."
That's advice I got recently about how to have a career as an artist. It wasn't advice specifically for me. It was advice that had been passed on from a friend of a friend. The friend who told it to me said it had been said to a friend of his.
It's not inspiring advice. It is useful. Most artists, whether they are painters, illustrators, writers, poets, singers or any other creative type, become successful by producing recognizable work. It doesn't hurt if the artist has produced a lot of similar work. That makes it easier for an audience to know what to expect when the artist does something new. Fans may like surprises but they prefer surprises within an expected range.
I say this a fan. Of all kinds of different artists. I don't take it personally if an artist whose work I've previously loved starts producing work that is very different from that which I'd  originally enjoyed. Sometimes I prefer their new direction. Sometimes I recognize that where they are headed is nowhere I want to follow.
An easy way for an artist to announce a new direction is to create a new (to use 21st century market speak) brand. Write under a pen name. Form a new band. Start a new imprint.
Most of my work that's seen print in the last ten years has been horror and fantasy related. I like to have a sense of humor about my illustrations but, for most part, I've been trying to creep people out. I thought it would be fun to do something different, lighter, sillier. But I also plan to keep doing serious (yeah, right) illustration.
The audience for serious and the audience for silly may consist of many of the same people but, even then, it helps to let the audience know what to expect. So, when I was setting up my new Etsy shop I decided that calling the shop Skookworks wasn't the best idea. I've posted a lot of friendly, cartoony work at my skook blog and at the Skookworks website but I've also posted a lot of not friendly stuff. Daughter of Spiders is often not friendly. So the new Etsy shop needed a new name.
One day last year, Nizzibet had complained that she felt weak as a kitten. I said: 

She insisted that I make her a poster with that saying on it. The image above is that poster. It's hanging on her wall in Michigan now. At some point I want to redo that image as a greeting card. In the meantime, I'm taking Mighty Kitten as the name of my Etsy shop. 

As with a lot of my projects (like this newsletter) I've put getting work done first and making it perfect second. At the Mighty Kitten Designs shop I'm currently selling one of a kind greeting cards. Each card is hand drawn and colored. The cards I'm making as perfect as I can. The design of the shop and marketing of the cards? That I'm still working on. I'm open to any suggestions you might have for either improving the shop or for specific card designs you'd like to see. Please take a look and then reply to this email with your opinions.
Speaking of specific designs – in the last few months I've been commissioned to create some original art for some individual clients. They've been kind enough to let me share a few of those images here.
The first three were done for a friend in Colorado who is very fond of rhinos. And squirrels.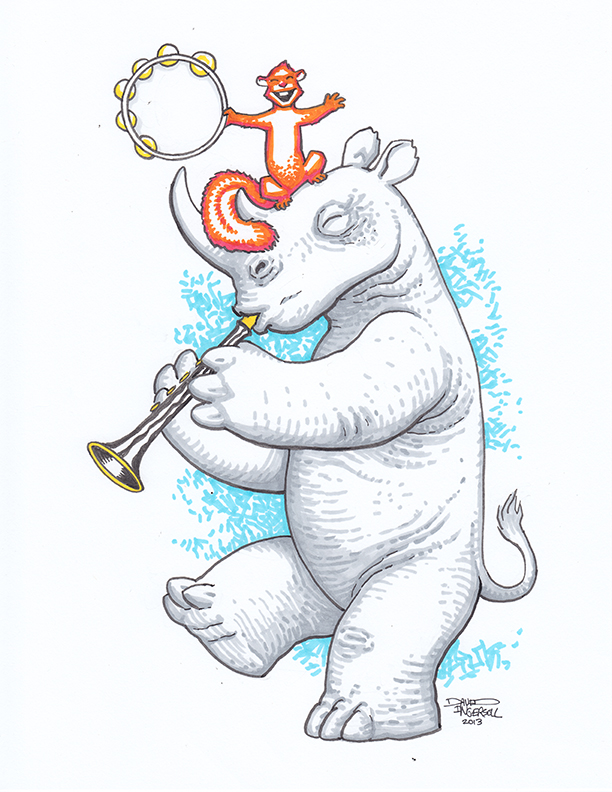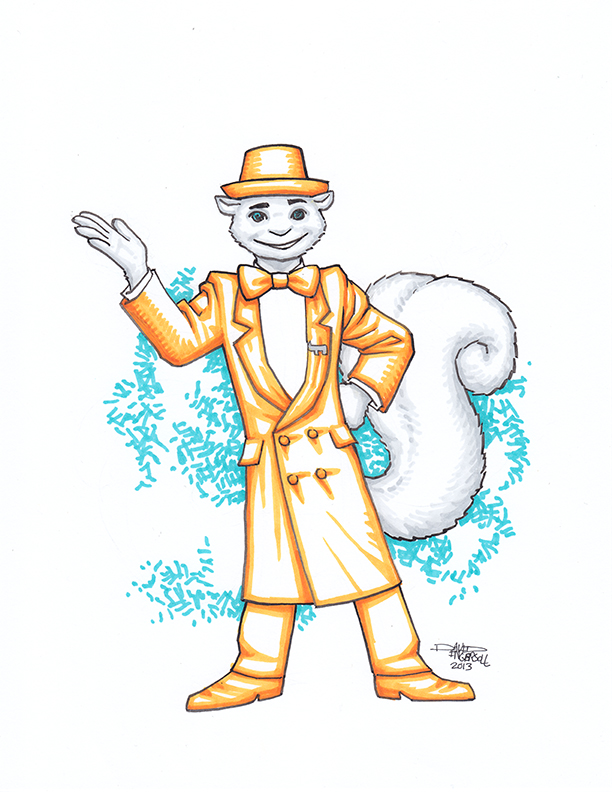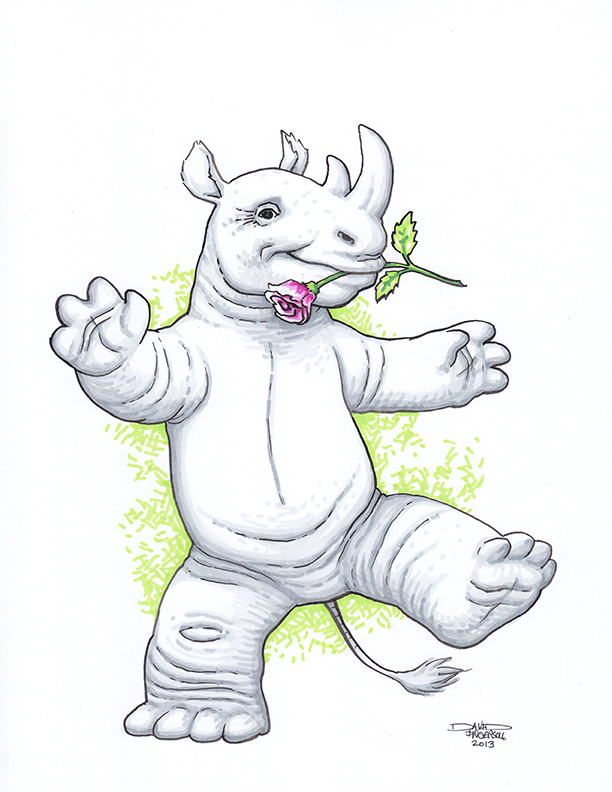 The next image was done a few months ago for a gentleman as a present for his son and daughter. It's a depiction of their RPG characters Raven Black and Sadie. Guess which is which.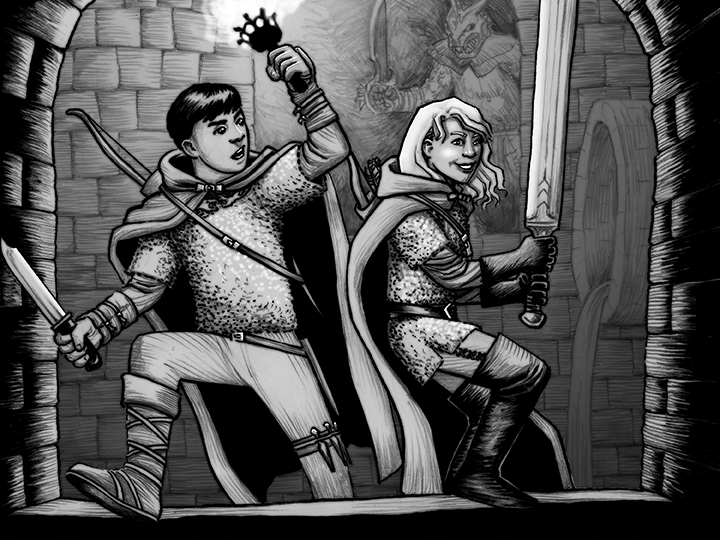 This last image is a remembrance portrait. It is a gift for someone who recently lost her husband.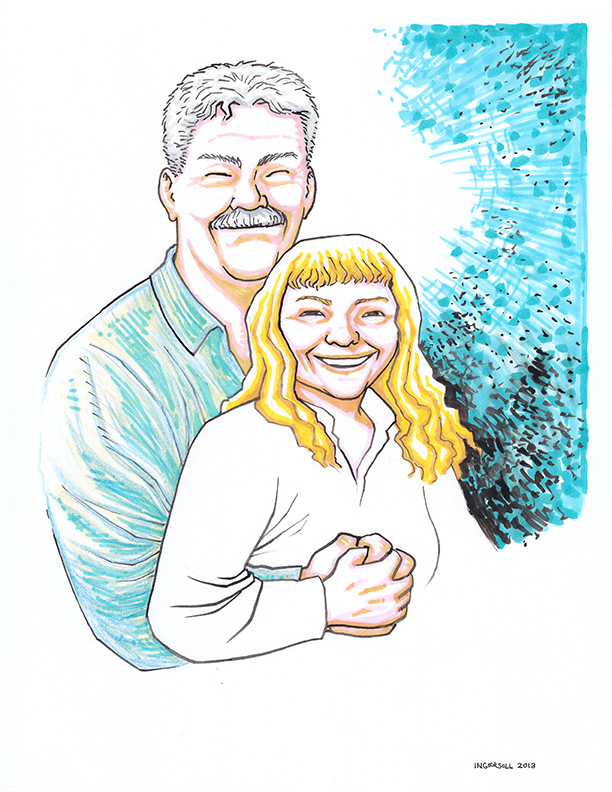 This month's links go to some stellar fantasy art, a science fiction webcomic and a sort of a book review blog. I'll be back on August 15th with a newsletter about that Daughter of Spiders thing that's been cluttering up the front page of Skookworks all this year.
Cheers!
STUDIO WONDERCABINET
The Illustration and Artwork of Heather Hudson
Heather is an amazing illustrator and a delightful person. She started a Sunday brunch group last year and made the mistake of inviting me join them. We try to pick restaurants that aren't frequented by families with small children because our group tends not filter our conversations for G ratings. But that has little to do with Heather's art. GO LOOK!
DICEBOX
A Webcomic by Jenn Manley Lee
Jenn has been serializing Dicebox online since the beginning of this Millenium. It's the story of Molly and Griffen, a pair of migrant workers traveling across a galaxy in the distant future. And that's a terrible description of the comic.  GO READ!
DARE I READ
Commentary by Glenn Ingersoll About His Reading Material
Glenn started blogging back in 2003. It was his beginning a blog that had be start blogging as well. His main blog was Lovesettlement. His second blog, Dare I Read, is a commentary on some of the various books he reads. He reads a lot of books. I've been inspired to read some new books based on his comments. You might be too. GO READ!