I promised the first official issue of this newsletter on May 15th. That day blew by, as did June 15th quickly thereafter. Quickly to me anyway. I've been working seven days a week since I sent off that first notice. I make sure to get out and see people on a regular basis but part of every day has been spent at creative work. Mostly it's been great but, without a weekend or a day off, it does make it easy for me to lose track of time.
It's especially easy when you consider the view I have in my studio: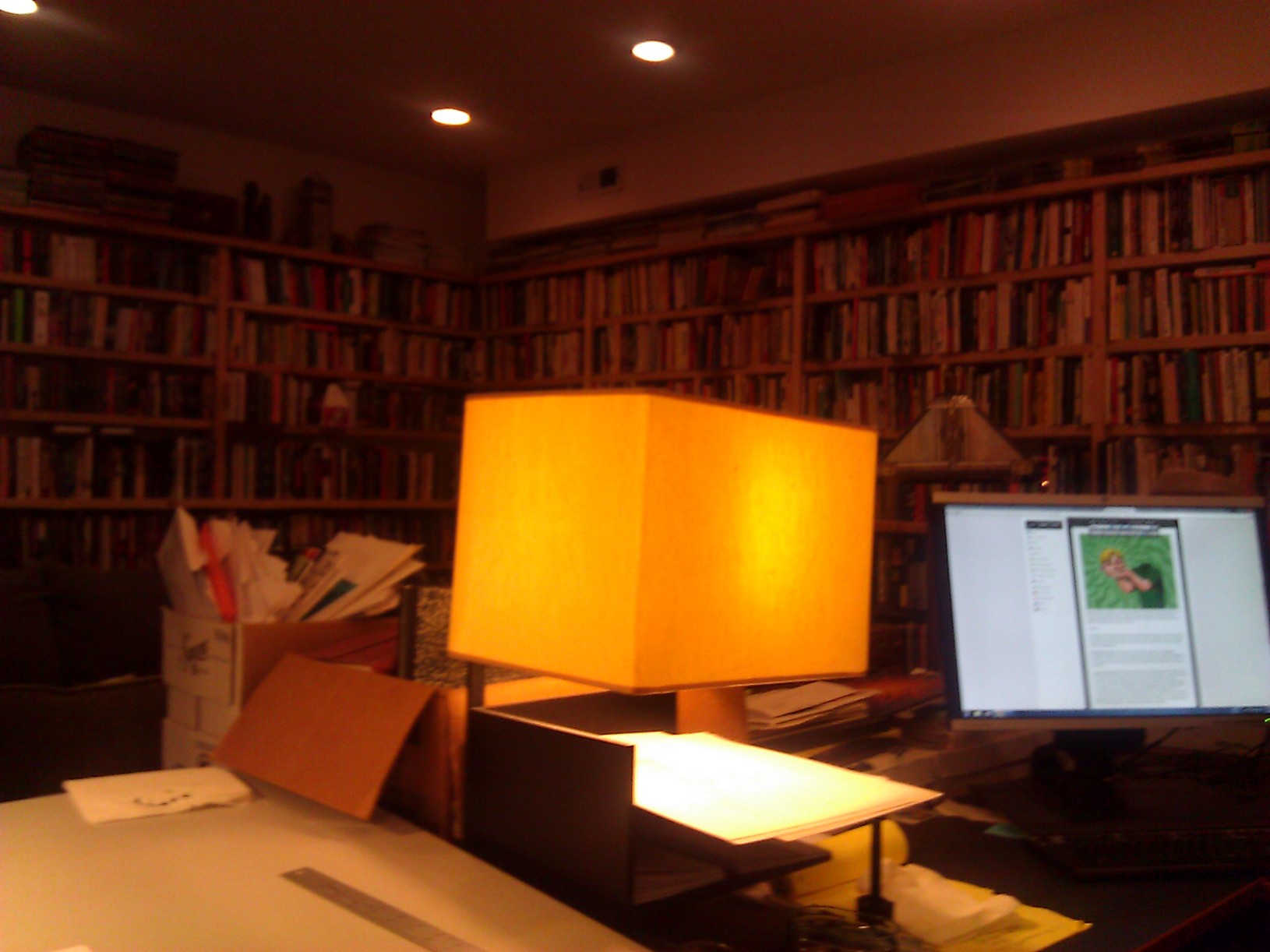 Yeah. No windows. The sight of all those books is really relaxing but it gives me no sense of time. It could been noon. It could be midnight.
Anyway. What have I accomplished with all this work?
Number one, I've finished drawing a graphic novel. I'm not exactly sure how many pages I've drawn because its been edited down somewhat. And, technically, I'm not done drawing it. The writer engaged an editor to go over the book and make suggestions. As a result, I've got more drawing to do. However, it feels less like we haven't finished the book and more like we're finished and now we're in a reshoot/post-production phase. This is the finish after the finish.I can't really talk about the book yet but I can show you this image because it's one of the pages that's been edited out of the book.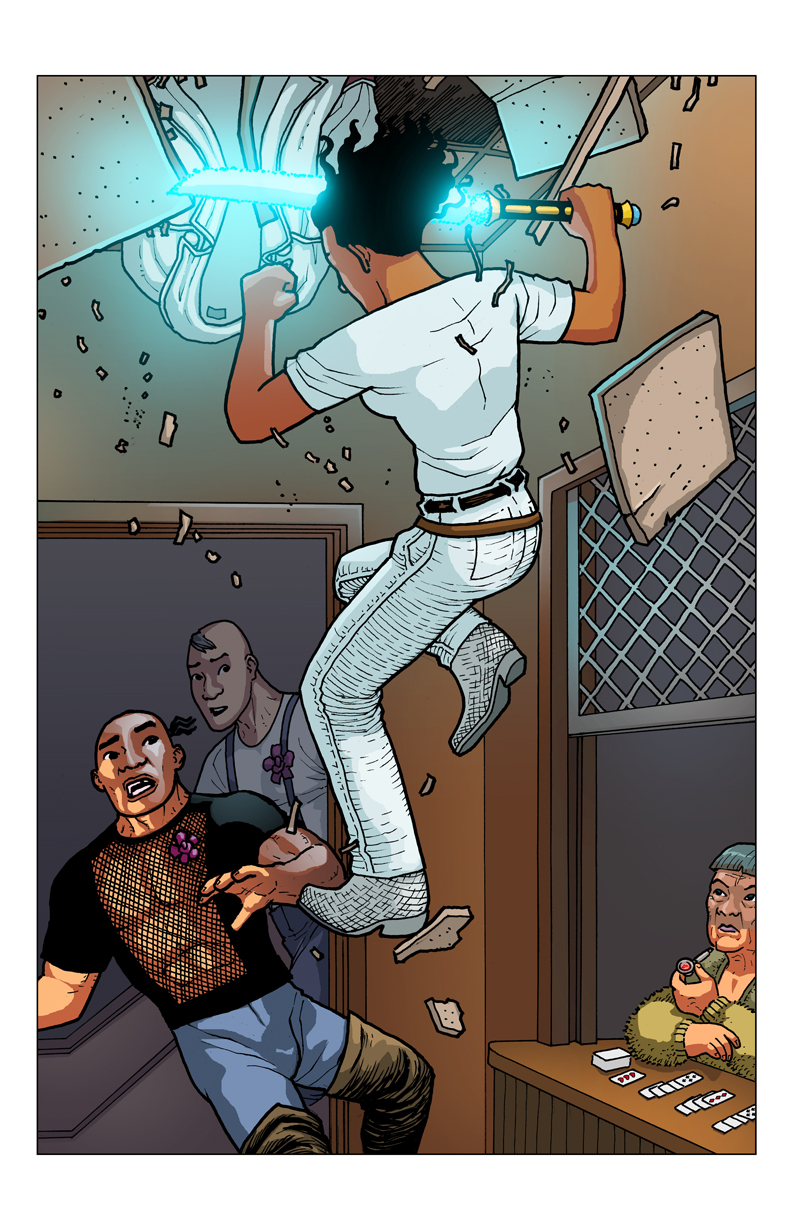 Pretty cool right? Imagine the stuff that we're keeping!
I finished the graphic novel in May. We're describing it as a science-fiction samurai western. We don't have an official title for it yet.
For the first part of June I drew pages for a second graphic novel. It's a barbarians versus … I can't tell you. The second graphic novel has been put on hold while I finish post-production on the first. I can show you the pencils and the inks of one page –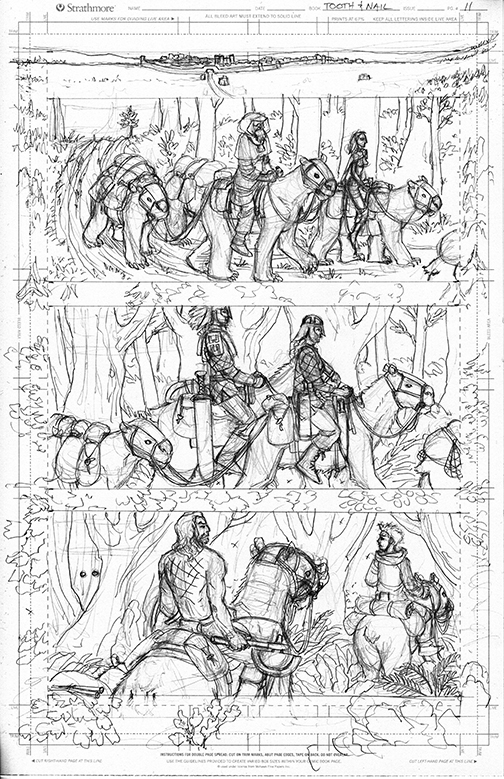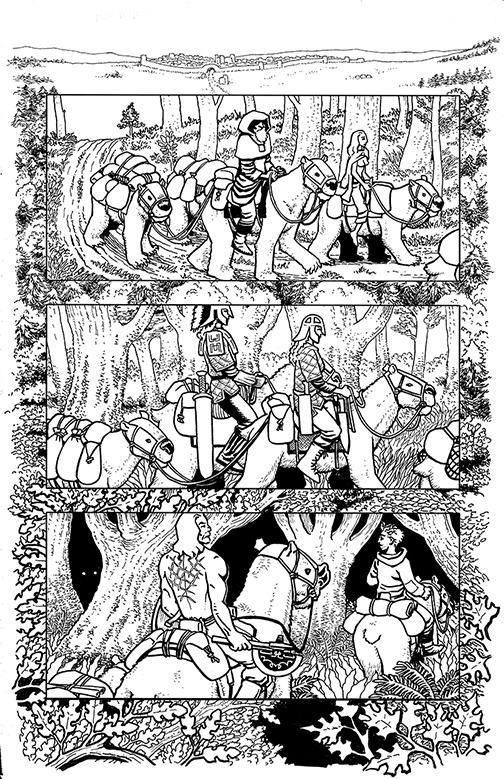 I've also been practicing inking the work of other pencilers. The penciler for this page asked me not to say what book it's from because it won't be published for a few months.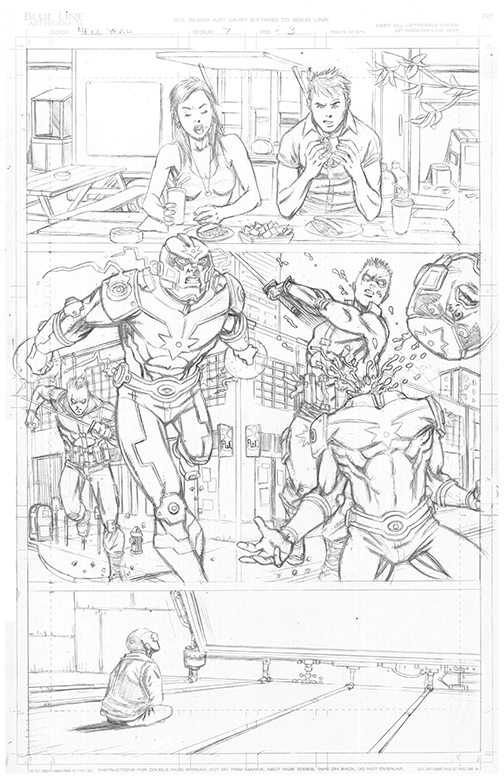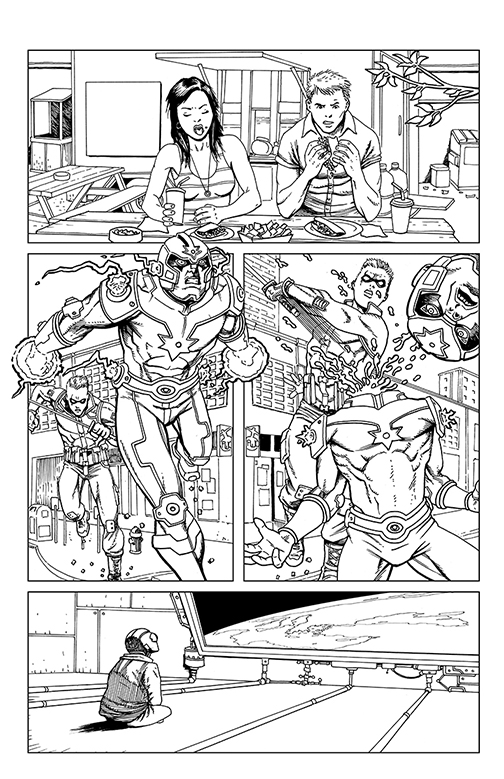 Inking over another artist's work, especially when I'm using new and different tools increases my own skills and adds the versatility of my work.
I have gotten out the house. The first weekend in May I went down to Portland for the H.P. Lovecraft Film Festival. I've been going now for about six years. This year was the second year that they've had a live artists' drawing contest. Last year I'd brought along my sketchbook and drawing tools and I drew along with the featured artists from a chair in the row.
I did it again this year.
Photo courtesy of Hieroglyph Photography
The subject matter for the contest gets chosen from the audience. They were asked to suggest a creature from Lovecraft's stories and place or situation in which to have the creature appear. The artists officially participating were Nick Gucker, Lee Moyer, Mike Dubisch and Liv Rainey-Smith. The audience suggestion was the King in Yellow at a Sushi Bar. The artists were given an hour and a half to come up with a completed illustration. This was what I came up with –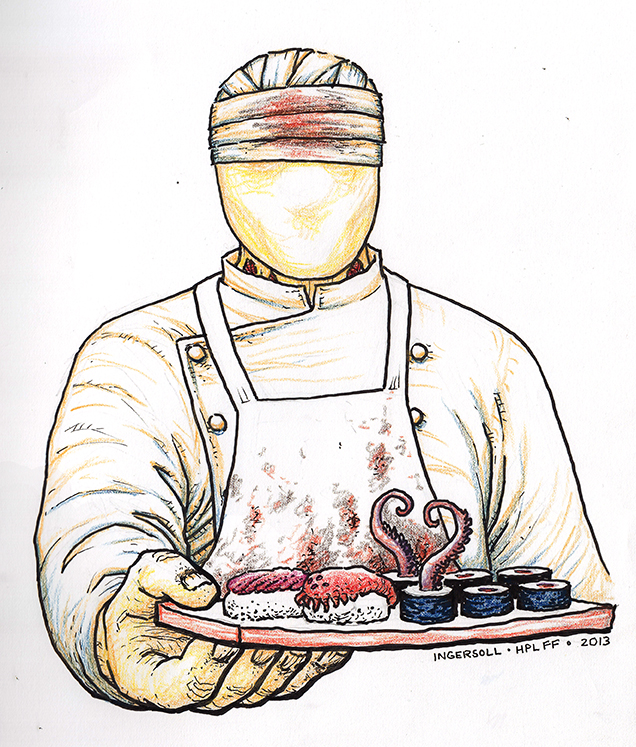 Participating informally at the HPL Film Festival lead to Nick Gucker officially inviting me to participate at another artists' competition at Crypticon a few weeks later. The other artists at that show were Nick, Devon S. Devereaux  and Shelby Denham. This time the audience was asked to suggest a piece of furniture and an iconic horror character as the subject matter. We were given Pinhead and a chaise lounge. We had to create our pieces in 40 minutes. This was the result. My piece is the one with the pink couch.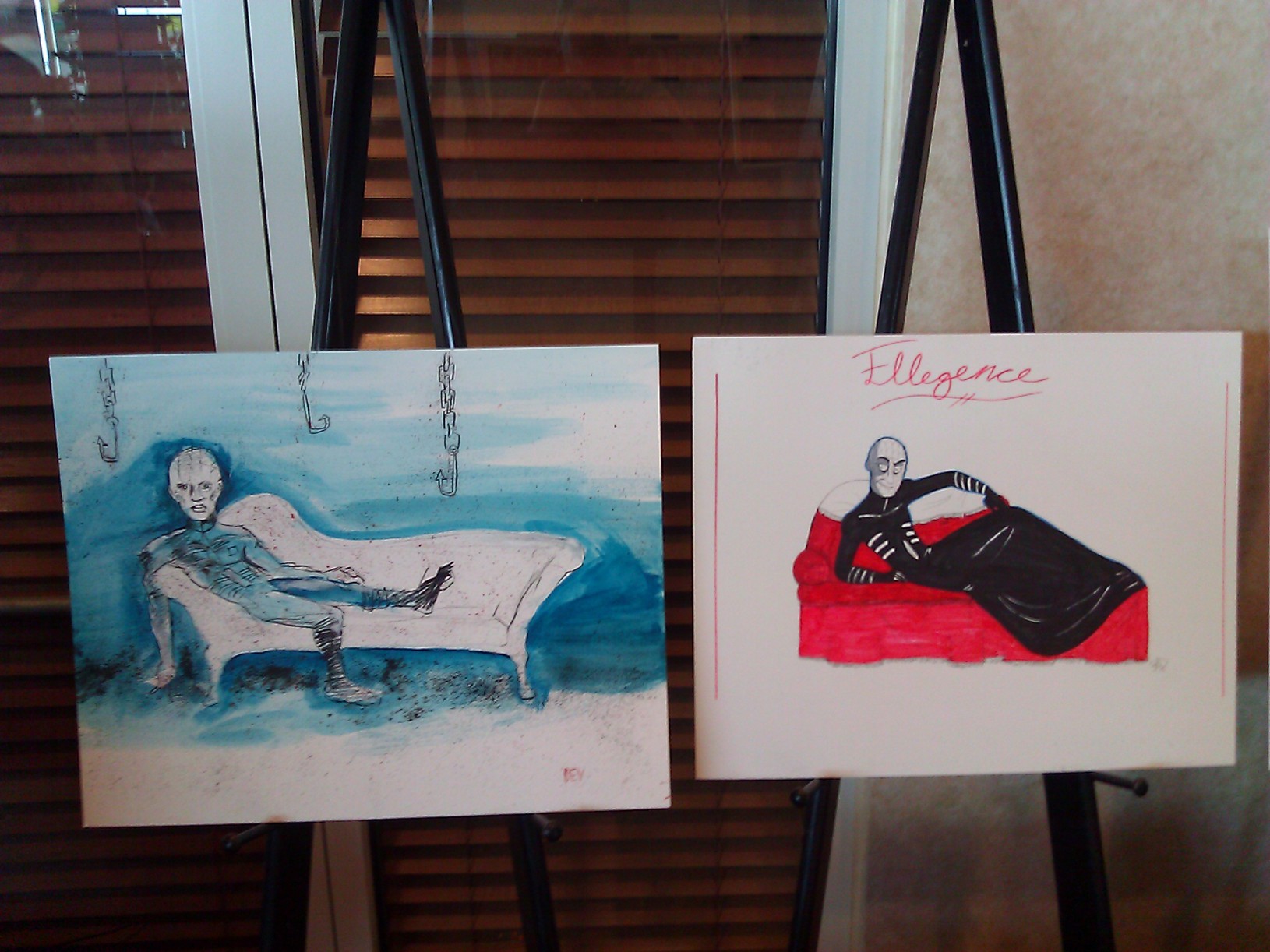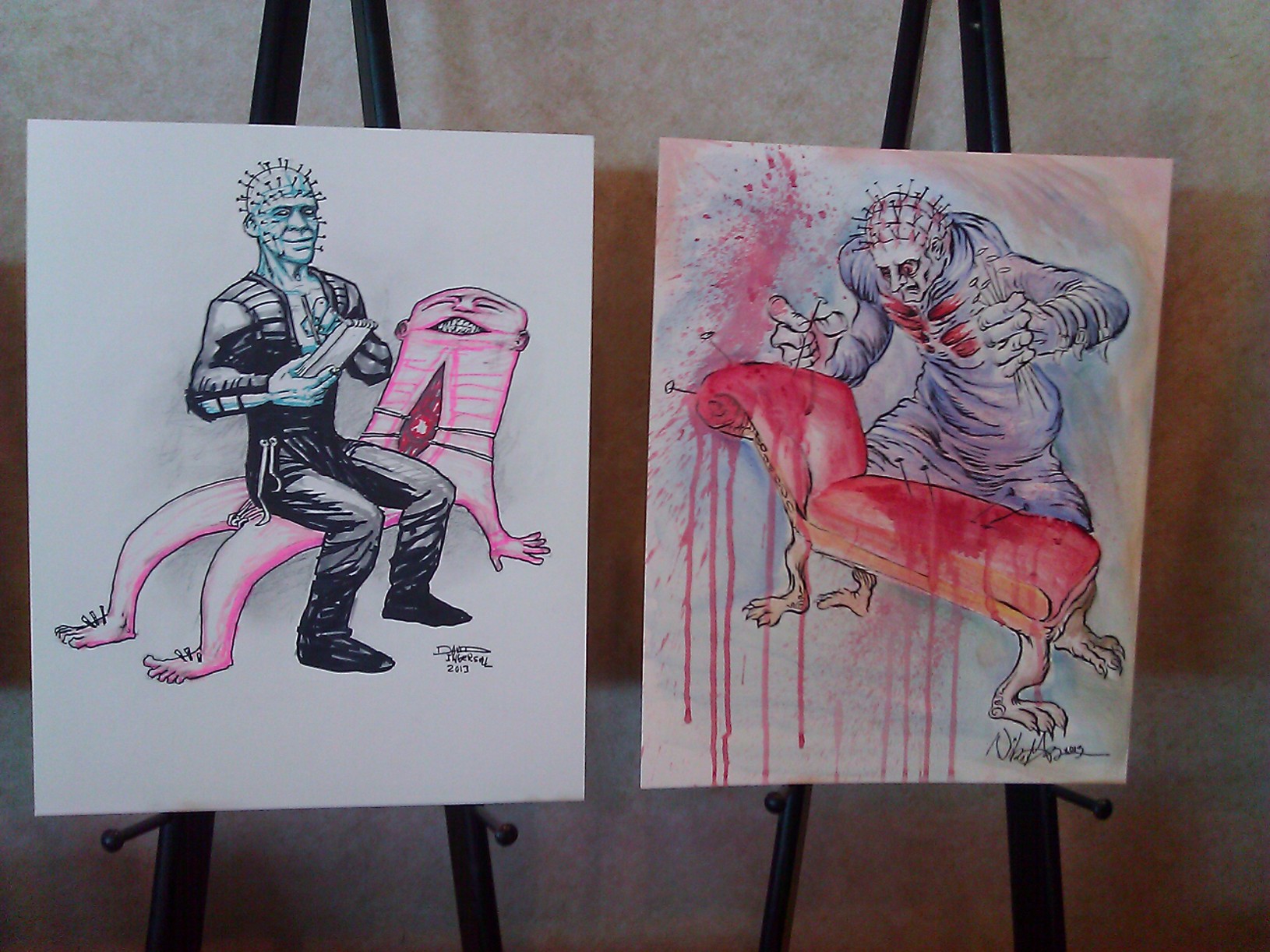 Proceeds from the sale of our pieces went to benefit brain cancer.
When I'm not working, I'm looking for work. That's part of the fun of being a freelance artist. Even when your schedule if full you're looking for the next opportunity. I scour Craigslist. I'm part of a half dozen groups on LinkedIn. If you have an illustration job or know of someone who might, please use the contact form on the right to let me know.
And I'm looking for part time and full time "regular" work. I'm pragmatic. If someone offers me a job as an office manager or at the library, I'll certainly consider it. Most artists do have day jobs to pay their bills.
I promised that I'd be linking to websites that I found interesting. I'm starting with sites and pages by people that I know. Given that I'm lucky enough to know a lot of people I may just stick to sites by people I know. This month: a website, a podcast, an etsy shop and a webseries –
Blue Legend Creative: Of course this is first! Blue Legend is Sarah Byam's marketing company. If you need ghost writing, copy writing, blogging, marketing, a website or any sort of publicity work done; Blue Legend is the place to start. Sarah has a team of people who can put together your project for a price you can afford.
Podcast at Ground Zero: Every two weeks Jarred "Apocalypse Nerd" Wallace and Adam Scott Glancy get together to discuss the end of the world. Jarred is the driving force behind Dagon Industries and Glancy is one of the founders of Pagan Publishing. They're just getting started with their podcasts. They've posted eight so far, covering 1970s viral apocalypses, monster apocalypses, apocalyptic games, apocalyptic currency and commerce and a Deathlands retrospective. The recordings don't always run smoothly and they are prone to digressions, but if you enjoy a good discussion about doom and destruction, give it a try. I'd recommend skipping the first episode. That's their introductory "discussion of what they plan to be discussing" episode. Actual discussions start in episode 2.
Scarlet Rabbit: My friend Ruth has been running her Etsy shop for about five years now. She specializes in wonderful crochet gloves and neck wear. She also makes nifty steampunk themed jewelry. If you don't see what you want for sale today, contact her directly. She takes commissions.
SheZow: SheZow is a superheroine. Trouble is, her alter ego is a dude. But he's adjusting. This is a goofy superhero comedy on the Hub Network. I'm pretty clueless about a lot pop culture, don't watch television or spend much time surfing youtube so this might be an incredibly popular show already. I found out about it because it's produced by Obie Scott Wade, one of my former fellow inmates  – I mean – classmates from Analy High School in Sebastopol, CA.
That's it for this month. I'll be back with another newsletter on July 15th. Really.
Don't miss the next issue. Send me you email address using the contact form on the right  and I'll add you to my mailing list.
Cheers!